Given The Election of Donald Trump In the US and The Passage of Brexit in The UK, International Business Development Is Likely To Be Stymied
In two of the world's bellwether countries, the people have chosen paths that, if implemented, will lead to increased isolation and decreased participation in global trade. With the election of Donald Trump in America and the passage of Brexit in the UK, all bets are off when it comes to international business development in 2017. Even if Brexit is not immediately implemented and President Trump's promises remain unfulfilled, the uncertainty generated by these two events appears likely to usher in an era of timidity at the very least.
President Donald Trump
This year, Americans had a choice between continuing the status quo with Hillary Clinton or shaking things up with Donald Trump. Clinton promised to build on President Obama's successes and implement incremental reforms in areas where his policies were not achieving their goals.
Trump promised to undo most if not all of Obama's policies, abandon or renegotiate trade agreements, dismantle environmental regulations and increase fossil fuel development, rebuild infrastructure, deport millions of illegal immigrants, and make it more difficult for refugees or immigrants to enter the United States. Trump declared that the end result of these momentous changes would be increased higher-paying jobs for working-class Americans, a more secure border, a decrease in terrorism and a higher standing for America in the world. Despite incredibly vague explanations of precisely how he would implement his agenda, he received enough votes to be elected the next president of the United States.
This came as a shock to the country as a whole and the business community in particular. Analysts of all stripes are now working overtime to try to determine what will come next for both the American and world economies. This uncertainty was exemplified by world markets plunging upon the news that Trump's election looked likely. However, as Trump's election was assured, markets stabilized and even increased around the world. This may have been due to the belief that any changes a President Trump wishes to implement will take months if not longer to come to fruition, and also perhaps a calculation that he may dial back on his more radical promises once he's faced with the prospect of actually implementing them.
Brexit
A similar dichotomy took place surrounding the UK's exit from the European Union. Brexit architects Nigel Farage, Boris Johnson and others were able to convince UK voters that the European Union was preventing them from achieving their true prosperous potential. They claimed that separating from Europe would bring good jobs back to the people of the UK and that membership in the EU was doing the UK more harm than good.
Upon adoption of Brexit, the British pound plunged to its lowest levels against the dollar in three decades, while British stock indices also hemorrhaged value. Stocks have since largely recovered, but the pound remains low.
Future Possibilities
In both instances, world markets initially panicked, but that panic subsided once investors realized that the sky was not falling imminently. Much will depend on the details of how Brexit is carried out, or even whether it will be carried out at all. The UK Supreme Court has indicated that it will require a parliamentary vote, and there may be other legal hurdles in the way of making Brexit a reality. Should it clear those, subsequent negotiations regarding the details may take months or even longer. This is contributing to the wait-and-see attitude shown by investors regarding business development between the UK and EU.
Similarly, President Trump now needs to choose cabinet members and settle into office. Far from running a business, the US president can't make major changes that are immediately implemented. However, with the backing of a republican Congress, President Trump will have the ability to keep his campaign promises should he choose to do so.
In considering this, he will likely be made aware if he isn't already that attempting to deport over 11 million people, most of whom hold jobs throughout the American economy, will undoubtedly create massive instability and negatively affect the people whose lives he promised to improve. In fact, he has recently talked of deporting only undocumented immigrants with criminal records, which would reduce that number to around 800,000. Pulling out of or negotiating NAFTA is also likely to create damaging economic waves which he will need to consider before proceeding.
While all this uncertainty for the future does not bode well for long-term international business development, the economy seems to be chugging along regardless. The real test will occur next year when both President Trump's promises and the UK's exit from the EU could come much closer to reality.
Current Opportunities
While the US and UK have lately and historically been world leading economies, technologically, politically and even culturally carrying many world trends, the fact that they may choose to play lesser roles in international economic development, means more room for any other player who wants to step up.
Businesses that can adapt and innovate could capture untapped market opportunities within and beyond their borders, may those be geographical, industrial or strategic. Dominique Strategic team and network are available to assist any business who wants to either proactively prevent possible threats to their businesses and/or seek national and international opportunities to grow in this new era of protectionism and unpredictability. Some businesses have survived and some thrived in the 2008 financial crisis. Instead of being alarmist, we propose an action-oriented approach to get ahead of the curve.
For instance, while UK is shying away from Europe and the US wants to renegotiate NAFTA, Canada has negotiated a historic trade agreement with the European Union, Canada-European Union Comprehensive Economic and Trade Agreement (CETA) a few days before Trump`s shocking victory. It will be implemented in 2017.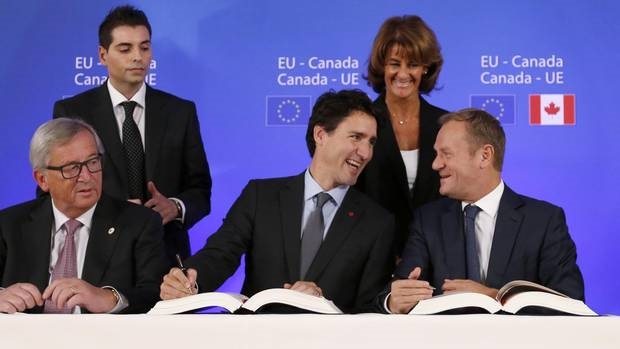 A few days later, our DSC United Arab Emirates team was keeping an ear on a Dubai conference that regrouped more than 500 business leaders, policymakers and investors from the GCC (UAE, Bahrain, Kuwait, Oman, Qatar and Saudi Arabia) and Latin America to explore ways to increase trade between the regions that already exceeding 16.5 billion USD in 2015 and more than doubled already since 2006.
Let us looked at all the areas of opportunities within or with the US and UK, and also without them. The world is still a big place and businesses, executives and managers who want to will emerge all the better for it.
Image credit: foxnews.com