Dominique Strategic Consulting continues to see Healthcare as a pillar of the business opportunities for innovation and international expansion. As such it attended 5 conferences in Japan in the Spring, including the Japan Life Science Week visited by some 60 000 professionals and over 1000 companies. The conferences focused on the following:
-MEDTEC Japan 2016 (Tokyo, Japan) for medical devices
-CPhi Japan 2016 (Tokyo, Japan) for pharmaceutical industry
-HealthCareIT 2016 (Tokyo, Japan) for digital health
-68th Annual Congress of the Japan Society of Obstetrics and Gynecology (Tokyo, Japan) for OB/GYN and woman health
-120th Annual Meeting of the Japanese Ophthalmological Society (Sendai, Japan) for eye care
From API formulation to dialysis, dentistry, optometry and fertility, our team examined the sciences, medicine and business opportunities and developed some relationships with key players.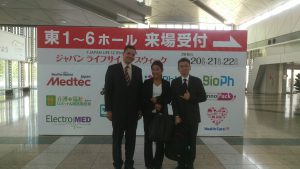 The 5 main takeaways from these exchanges are that
1. eHealth is a new strong space with clear multi-prong potential
2. Japan is innovative but still insular insofar as export/import, regulation and relationship
3. India*, South Korea and China are heavily investing in pharma, especially generics
4. Services seem to be surpassing products for growth and margins
5. Technological advances may see a shorter time to market
A new hysteroscopy technology that reduces pain and surgery, a state-of-the-art robot-assisted preventative health helper, an asthma relief reengineering, or an outdated medical imaging technology that still has sizable untapped potential across the Pacific, are ready examples of a sheer multitude. The opportunities to bridge the chemistry, engineering, market, guideline, organizational and patient gap is tremendous and companies are finding ways to get there sooner and better prepared.
Noteworthy shorter time to market comes from a combination of:
a) Understanding regulation support process as a global net with faster approval routes than others
b) Utilizing existing approved components or mechanisms
c) Generating localized clinical evidence
d) Partnering with complementary companies
For more details on these comprehensive conclusions and how to make it relatable and applicable to your situation be in in healthcare or in another vertical all together, feel free to reach out to our team. In the meantime, contemplate that Japan is the third-largest spender on health care in the world after the U.S. and China, and the majority of healthcare spending is publically funded (over $USD 500 billion). It is also the second biggest pharma industry as a market and manufacturer. Japan would benefit from interacting more with the world and the world would also benefit to get to know this healthcare powerhouse as well as figure out why Japanese people still on average live longer than the rest of us mere humans. There is much health, synergy, novelty, collaboration and growth to be had.
*India is also leading the world in pharma patent applications