Our existence on this earth, have largely revolved around the phrase — "Nothing endures but Change". We have seen in the past, how the idea of striking stones to produces fire had sparked a new hope and desire in human beings and created a platform for many new inventions to follow. We live in a competitive world where every second where ideas meets realization to produces a revolutionized product. In the last two decades alone, we have seen many new technologies which have evolved and made lasting impression on our lifestyle.
We have reached a point where urban population surpassed the rural population by significant numbers. It is expected that by 2050, almost 70-72% of the world population will be urban and many cities will have over 10 million inhabitants1. It is estimated that by 2025 in China alone, there will be 221 cities in excess of 10 million inhabitants. Cities are genuine platforms where people live, local and global companies establish their business and in which numerous services are provided. What's more, they are major centers of consumption of resources. Currently, cities consume 75% of the world's resources and energy as well as generate 80% of greenhouse gases.
So being the enabler of "Change", Dominique Strategic Consulting takes the opportunity to share our views on a newly coined concept called "Smart City". What is Smart City? The term is not static, there is no absolute definition of a smart city, but rather it's a process, or series of steps, by which cities become more sustainable and resilient and, hence able to respond quicker to new challenges. A smart city includes smart governance, smart energy, smart building, smart mobility, smart infrastructure, smart technology, smart healthcare and smart citizen.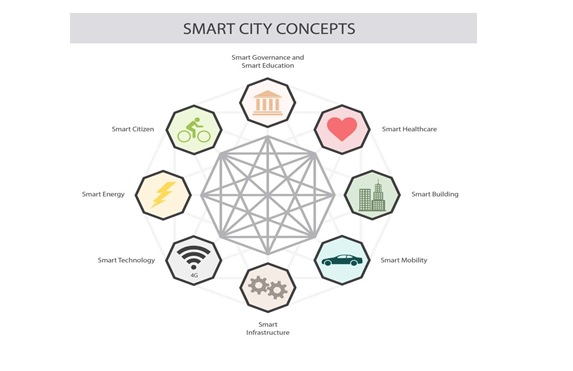 A study2 suggests that for any city to be acknowledged as smart, it must possess 5 out of 8 above listed parameters (also see figure above), along with "smart security" being treated as a separate ninth parameter. Those cities that are only implementing a couple of these are what we define as eco-friendly cities. By 2025, it is expected we will have around 30 global Smart Cities and around 50% of these smart cities will be from North America and Europe. One of such smart city project is South Korea's Sangdo, once ready it will become the habitant for 65,000 populations. Frost & Sullivan research shows a combined market potential of $1.5 trillion globally for the smart city market in segments of energy, transportation, healthcare, building, infrastructure, and governance. If one compares that to GDP of nations in 2014, it will sit above the GDP of Spain, thus making it the 12th largest GDP in the world. Though it has huge potential, the road ahead is very challenging, including finding and developing the right business model for such gigantic projects. Companies will get engaged with city authorities and utilities to tap into this market mainly via four main business model namely:
• Build Own Operate (BOO)
• Build Operate Transfer (BOT)
• Build Operate Manage (BOM)
• Open Business Model (OBM)
Out of these models, the most exciting is the Open Business Model (OBM) as it is expected to foster most of innovation due to the level of flexibility and scalability such platform offer. This is where, the city planner allows any qualified company or business organization to build city infrastructure and provide city services. The city planner, however, will impose some regulatory obligations to them under check.
Need & Value of Smart City
Need for Smart City: Value of a Smart City:
Increased populations
Reduced public spending
Polarized economic growth
Increases efficiency and quality of services
Increased greenhouse-gas emissions (GHGs)
Provides support in decision-making
Promotes innovation
Provides information in real time
At the present, market is also shaping up well in terms of achieving its financial stability and showing keen interest in grabbing new opportunities. Smart City market participants will assume one or more of the four main roles in such engagements – integrators (the end-to-end service provider); network operators (the M2M and connectivity providers); product vendors (hardware and asset providers); and managed service providers (third-party providers overseeing management / operation of smart solutions / services). The picture below describes the different roles and players currently positioning themselves in each role: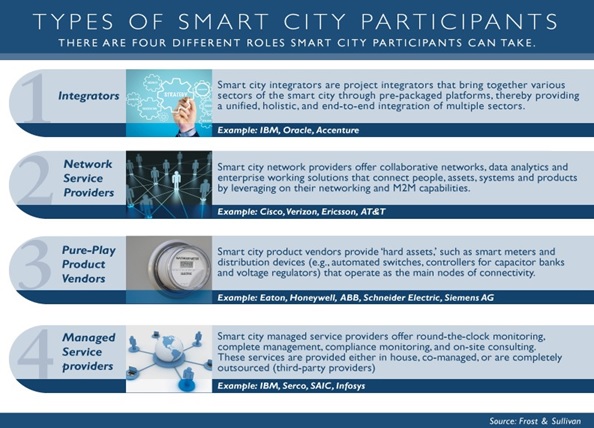 According to Cisco's Stuart Taylor3, for a typically medium size city deployment, like Seattle, a typical service provider could potentially generate at least $15M in new annual revenues from core or closely aligned businesses. A global market opportunity of $3 to $4 billion of new annual revenues is readily within the grasp of SPs to help cities to deploy smart city initiatives. And, that number could increase considerably if a service provider is willing to make investments in creating new capabilities and expertise.
On the economic side, a study by KEMA DNV Energy and Sustainability concluded that Smart Cities have an annual GDP growth rate that is 0.7 percent higher, an unemployment rate that is a full percentage point lower, and office occupancy rates 2.5 percent higher than less advanced cities, making it a win-win for people and corporations who can prepare for it.
There is a genuine need to understand the smart city realities and opportunities to capitalize on a new way of planning and implementing. Therefore, the "smart" company will be well equipped to capture some of the projected smart city associated revenues, be smart doing it and be smart about it.